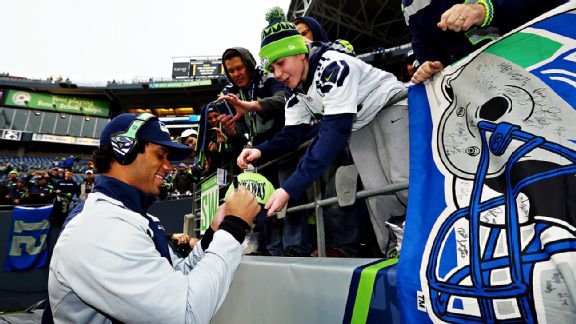 Here's an interesting article about Seattle Seahawks quarterback Russell Wilson, who'll play for the Super Bowl title in Sunday. He seems to be a Christian with a great testimony in his city. The most interesting thing in the article for me was that Wilson has been reaching out to recording artist Macklemore (who's song "Same Love" champions the cause of Homosexual marriage and recently provided the background music for the mass marriage at the Grammy's):
Grammy-winning rap artist Macklemore, a Seattle native and devoted Seahawks fan, even started visiting sick kids at Seattle Children this year after Wilson befriended him and encouraged him to tag along on his weekly Tuesday visits.
"So happy for this guy," Macklemore wrote on Instagram after the NFC Championship Game, captioning a picture he took with Wilson in the Seahawks' locker room. "No one deserves it more. I've learned a lot from him this year on a human level. He's the definition of a stand-up guy."
This was a good reminder to me of two things. First, I should always remember that the people who come before me as "media personalities" are individuals, and God works with them as such. Second, I should always remember that my God is working in ten million ways I don't see and (with an exception for cases like this article) won't know about on this side of Christ's return.